First nomination for Board Elections from PNG
Winifred Kula Amini
(nominated by Maureen Hilyard, seconded by Alisi Tuqa)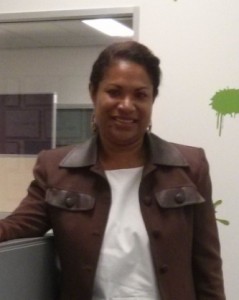 Winifred Kula Amini is enthusiastic about technology, entrepreneurship and innovation. She has over 15 years of Information Technology experience in business analysis, design and development of business processes and system solutions.  She is also currently the Vice President of the PNG Computer Society and also committee member for the PNG Information and Communication Technology (ICT) Cluster.
With the experience from the APEC Start-up Acceleration Leadership Summit in 2012 she believes that there is potential in the software development industry in PNG.  Software development is exciting and is yet to be nurtured.  Through her role in the PNG Computer Society and the PNG ICT Cluster more can be done for small startup companies and ICT Professionals to accelerate Research and Development projects especially in the fields of Internet, Mobile and Software engineering.
As part of the PNG ICT Cluster's vision to be the Silicon Valley of the Pacific, one of the strategies is to establish an Internet Exchange Point (IXP).  PNG NICTA is currently in consultations to have this implemented, but currently all internet traffic in PNG, even local traffic, goes offshore from PNG and then re-routed back.  This adds to the high expense of internet provision and is also cause of the high congestion of the international gateway bandwidth (Tiare).
Her previous role was as the Project Manager for PNGs whole-of-government approach to e-Government called the Integrated Government Information System (IGIS) Project.  The IGIS Network is the largest e-government network in the country and is a multi-million dollar project which ended in June 2014.
She holds a Masters in Business majoring in entrepreneurship from the University of Queensland, Australia and a Bachelor of Science in Computer Science (With Merit) from the Papua New Guinea University of Technology, Lae.