Former Chairman of ICANN to attend PacINET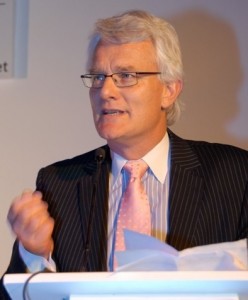 Peter Dengate Thrush is globally recognized as a leader of Internet infrastructure and governance organisations.  He has ardently defended the Internet from singular points of control and capture. A free Internet, he believes, is instrumental for encouraging self-expression,innovation and fundamental economic growth.
This passion has defined his career since 1995 when he agreed to help a fledgling Internet association, InternetNZ, then recently formed, to assume responsibility for the .nz Top Level Domain as President of InternetNZ, and Chair of its International Affairs Committee. As a respected intellectual property barrister he made substantial contributions to the WIPO work done in 1999-2000 on domain names, and was instrumental in developing the UDRP – a global, compulsory arbitration process applying to generic domain names.
He served as Chairman of ICANN, the Los Angeles-based global governance authority of the Internet, between 2007 and 2011. At ICANN, he led the process to replace the direct US Government oversight of ICANN with accountability to the global Internet community.  He also led the introduction of internationalised (non-english) domain names, the de-regulation of the registry/registrar market, increased security for internet users via the addition of DNSSEC (cryptographic security) to the root of the Internet, and the introduction of a market-driven process for adding new generic Top Level Domains (gTLDs). These innovations are cumulatively the biggest changes to the Internet since its inception.
Until January 31, 2013 Peter was the Executive Chaiman of Top Domain Holdings Limited. TLDH is registered on the London Stock Exchange, (AIM:TLDH.L), and is the only publicly traded company focused exclusively on acquiring and operating new generic top-level domains.  He is also the founder and chairman of the charitable trust that awards the New Zealand Internet Industry Awards.
He has also been invited to the boards of several technology based startups. Currently, he serves on two – dealing with patented facial recognition software, and a new Top Level Domain for New Zealanders.
He is prized for his singular-minded focus and stamina in setting and achieving strategic goals, building, energizing, and guiding management, and balancing diverse and sometimes conflicting stakeholders, to transform small but ambitious organizations into key commercial or non-commercial players on the public stage.
He is familar with recruiting, counselling and evaluating performance of CEOs, and provides strategic advice to boards on issues facing start-ups. He is accustomed to reaching out to, and working with Heads of State, Ministerial-level elected and Governmental officials around the world, and is a diplomatic and skillful negotiator.
Peter is an expert sought after by the media, and has been widely interviewed and quoted in leading publications and outlets such as BBC, The New York Times, The Economist, and the WSJ. He has also chaired international meetings and working groups and given keynote addresses in approximately 80 cities in 70 countries.