Celebrating women leaders in Information and Communication Technology (ICT)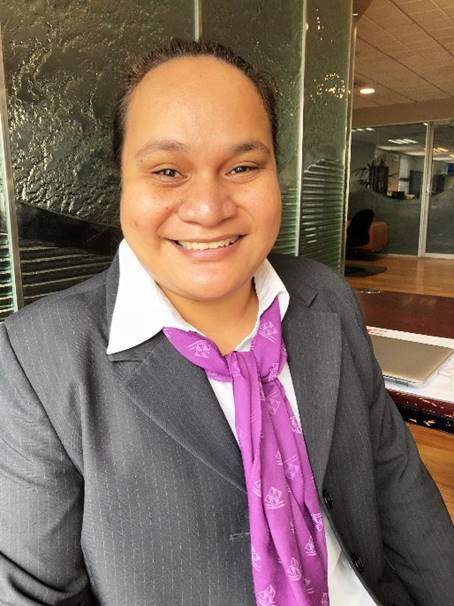 GEORGINA NAIGULEVU is the Senior Manager Applications, Projects and Innovations at HFC Bank, Fiji 100% locally owned bank, providing the best banking & financial solutions to the people of Fiji & abroad. She has 11 years of extensive experience in Information and Communication Technology (ICT) and Financial Industry in the space of software development, process improvement projects. She is leading a team to develop digital and ICT tools that have helped improve e-Commerce and digital payments for both her clients and her employers.
Georgina holds a Bachelor of Science Degree in Computing Science and Information Systems from the University of the South Pacific (USP). She has been a USP mentor since August 2013 and was part of the winning team for the first hackathon "Fishackathon" that was organized by the United States Embassy of Fiji in 2015.
This year in February 2019, she was part of an Australian Pacific Connect Program as an emerging leader to discuss 'Pacific Women in Business and Digital Delivery'. In March 2019, she was a judge in the iHack Challenge that had been organized by Pacific Financial Inclusion Programme (PFIP) and USP. In July 2019, she had organized a Pacific Connect – Fiji Dialogue themed "Technology enabling inclusiveness" that brought together participants from Australia and Fiji to explore assistive technology and how digital connectivity can improve social inclusion. She was recently a panellist at the Catalyzing Women's Entrepreneurship consultation at the Pearl Resort in Pacific Harbour on the topic of "Leveraging The Power of ICT for Women Entrepreneurship" that was Ministry of Women, Children and Poverty Alleviation.
She was also a panelist at the Seedstars World Event organized by UN-PFIP and GSMA last month on the topic of Technology Ecosystems in Fiji.
Georgina is an emerging technology enthusiast with a wealth of experience in different industries such as Government, Private Sector and Finance. She continues to support people to have the best digital payment experience. She is a great role model and has great influence in advancing women and girls in ICT. Her passion and dedication to her work continue to inspire many people. The Pacific Islands Chapter of the Internet Society (PICISOC) is proud of Georgina and her achievements.