CybersecCon Pacific 2019
Report by Elvin Prasad
'CybersecCon Pacific 2019' was held in Suva, Fiji on 29 & 30 July, 2019.
This regional Cybersecurity event was the first of its kind to be hosted here in Fiji, giving an insight about Cybersecurity in the Pacific region, global security trends, threat prevention and management, incident response, ICT infrastructure protection, and enterprise solutions for IT security.
The conference had the presence of participants from various sectors who had some of the vital roles such as IT Security Managers, CISOs & CTOs, Security Practitioners, IT Security Analysts & Engineers, Cloud Administrators, and Regional Security Experts.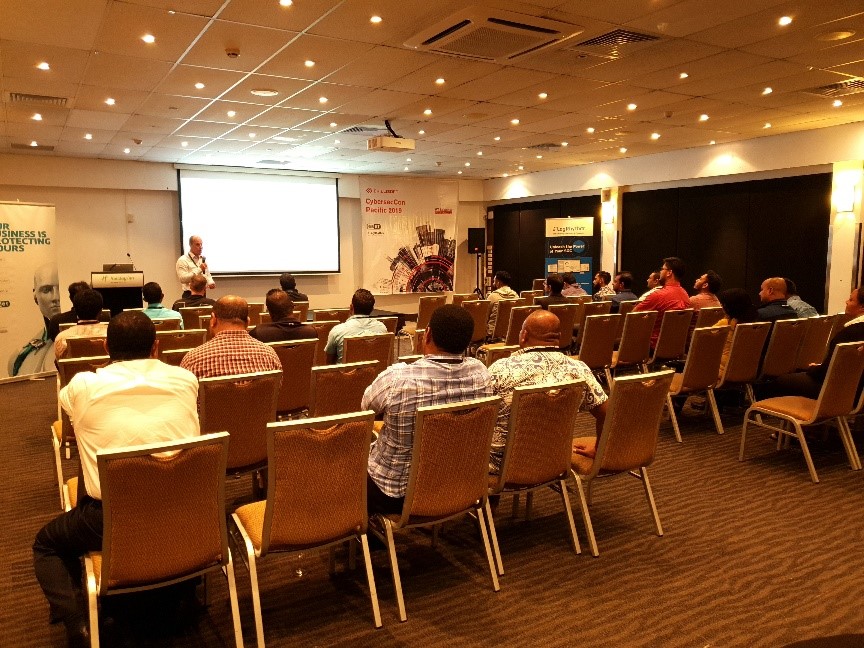 It also included a Technical Workshop on Security Information and Event Management (SIEM) and an Advanced Hands-On Workshop specifically for security engineers and threat analysts.
Some of the conference topics and panel discussions included deliberations in the following areas of IT Security :
Pacific regional status of Cybersecurity
Data protection and organizational security
Cybersecurity challenges faced by CTOs in Fiji
Cloud and Enterprise security
Defense methods against Cyber Attacks
Threat hunting demonstrations
Safer Internet Center Fiji has been closely working with industry partners in the Pacific Islands ICT sector to establish national and regional Cybersecurity standards that are aligned to international standards, creating tactics and guidelines for corporate IT security measures, and developing Computer Security Incident Response Team (CSIRT) frameworks for sector-based security operations and effective incident handing and response capabilities.  
Elvin Prasad is the Coordinator for Safer Internet Centre Fiji.
The views expressed by the author of this blog are his own and do not necessarily reflect the views of PICISOC.