Women in IT Solomon Islands (WITSI)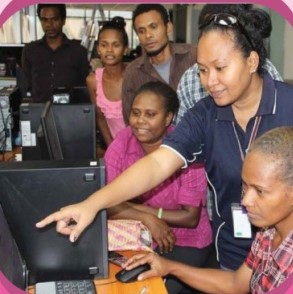 A brief background of WITSI:
WITSI was formed in 2017 after a group of young female ICT professionals attended the 2nd Annual Women in Tech Conference in Sydney, Australia and returned to Solomon Islands inspired to come together to address challenges facing females working in ICT and to promote Information and Communication Technologies (ICT) careers amongst women and girls in Solomon Islands.
The WITSI founders realized the shortage of skilled ICT professionals and university graduates in the country as well as the underrepresentation of Solomon Islands females in the ICT workforce. The group currently has 49 members and comprises of female IT professionals in both the public and private sector including students currently pursuing IT studies. It has an Interim Executive Committee that consists of 9 members who meet on a voluntary basis when the need arises.

WITSI is an affiliate of a larger and legally registered IT body – the Information Technology of Society Solomon Islands (ITSSI) and strives to help ITSSI achieve its strategic key goals and objectives. Since 2018, WITSI has endeavoured to promote ICT as a career for young girls in Solomon Islands and have already begun ICT awareness talks in several schools.
Recent Key Achievement:
One of WITSI's recent key achievement/stories which we wanted to share with PICISOC is the ITU Girls in ICT Day annual event which WITSI organizes and host each year. This annual event provides WITSI with an opportunity to advocate and promote public ICT literacy to our primary and senior female students in Solomon Islands to kindle interest for ICT at a very young age as well as to maintain our relationship and partnership with stakeholders to develop and advance ICT amongst our women and girls in Solomon Islands. Please find attached our 2019 Girls in ICT Day Report for detailed activity highlights. The report was specifically targeted towards our event sponsors however we are happy to share this with you in our quest to 'Expand Horizons and Change Attitudes'.
Resources:
WITSI Facebook page, follow to keep abreast with other WITSI events and stories: https://www.facebook.com/WomenInITSolomonIslands/

For other ITSSI events/stories from IT Society Solomon Islands webpage: https://www.itssi.sb/