Council Launches New Mobile App and Complaints Management System
PRESS RELEASE
Fijians will now be able to lodge consumer complaints with just a few swipes. This has been made possible after the launch of the new Consumer Council of Fiji Mobile App and Complaints Management System (CMS) today by the Minister for Commerce, Trade, Tourism and Transport (Ministry of Commerce, Trade, Tourism and Transport ) Hon. Faiyaz Koya.While launching the app, Hon. Koya thanked the Council for developing the app and highlighted that the launch of the app was very timely. "Today marks a significant achievement for the Consumer Council of Fiji as we officially launch the Council's mobile app. This comes at a time where consumers demand timeliness, flexibility and convenience," said Hon. Koya.
The Council Chief Executive Officer, Ms. Seema Shandil says that the mobile app is a result of the Council's efforts in working towards reaching as many Fijian consumers as possible and improving and upgrading the method of lodging complaints. "This app is another addition to our arsenal which will further assist us to continue doing our work in a bigger and better way and will enable us to reach a much greater number of Fijians than ever before," Ms Shandil said."This would translate into more Fijian consumers being aware of their rights, their responsibilities and will assist us to advice and if need be, seek redress for these consumers," she added. This app is simple and easy-to-use.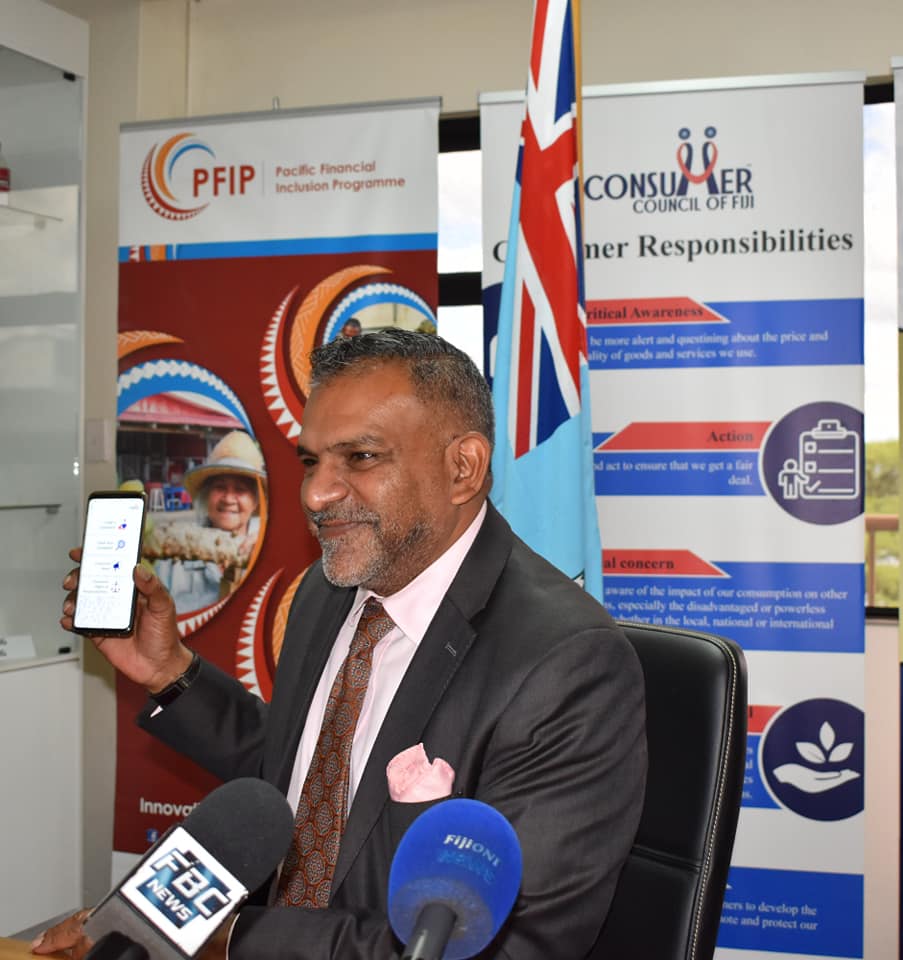 Apart from lodging a complaint, the app allows consumers to track its progress, saving them time on any follow-ups. The app also contains vital static information such as the role of the Council, consumer rights and responsibilities as well as latest updates by the Council and consumer advisories. Along with the mobile app the Council also launched the Complaint Management System which will be used for the efficient management all consumer issues and complaints.
The new CMS will help improve the efficiency of its process, consistency, and quality of the work. "This modern system will also prove effective in proper documentation of complaints/issues we receive and will enable our officers to access any complaint with just the click of a button."The Chief Executive also acknowledged the PFIP – Pacific Financial Inclusion Programme – UNCDF (PFIP) for their generous funding to develop the Complain Management System. PFIP Program Manager Mr. Bram Peters commended the Council for integrating latest technology in their bid to serve Fijian consumers and assured continued collaboration in the future.
"The newly developed CMS will go a long way in ensuring that the Council is able to effectively serve Fijian consumers and will bring about efficiency in Councils work" said Mr. Peter. He further added PFIP looks forward to working hand in hand with the Council. The Council has reiterated their continued efforts to assist consumers and protect their rights and has called for consumers to be their eyes and ears on ground through this app.
The mobile app is currently available for download for Android users, available on Google Play Store